THE FUND WILL COOPERATE WITH THE HOUSING INITIATIVE FOR EASTERN EUROPE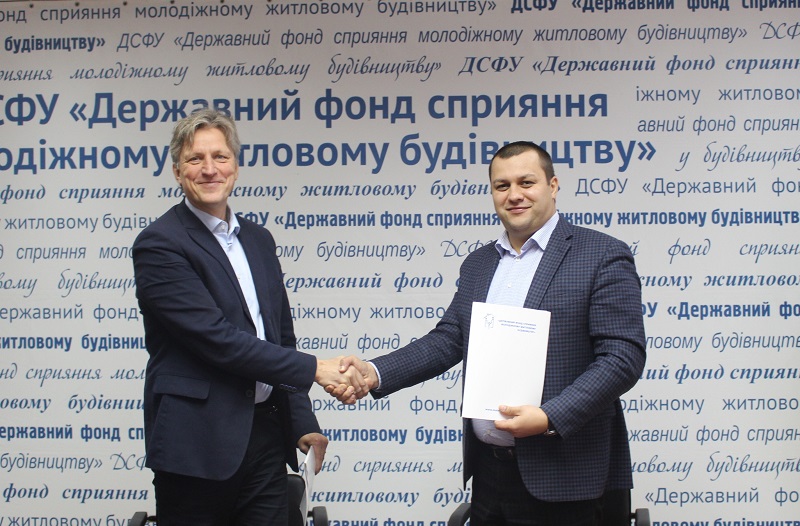 Today, on November 11, the Memorandum on partnership and cooperation between
The State Specialized Financial Institution "State Fund for Support of Youth Housing Construction" and the Housing Initiative for Eastern Europe (IWO) was signed in the central office of the Fund.
The document was signed by the Chairman of the Fund's Board Serhii Komnatnyi and IWO's director Knut Hoeller.
The parties agreed to cooperate through the mechanism of permanent contacts and exchange of information, joint events and international projects.
First such big event will be international symposium "HOUSING COOPERATIVES AS A MODEL FOR CREATING AFFORDABLE AND ADEQUATE HOUSING IN UKRAINE" to be held in Kyiv on November 12-13. The event is organized by the Housing Initiative for Eastern Europe (IWO) jointly with the Center of Competence for Major Housing Estates and supported by Cooperative Housing International (CHI), and Friedrich-Ebert-Stiftung, in partnership with the State Fund for Support of Youth Housing Construction and PO Centre of Local Government Studies.
Reference. The Housing Initiative for Eastern Europe is an NGO bringing together private and public partners from Germany and other countries. The aim of their activities is to support market-oriented, sustainable, ecological and social development of the housing and construction economy in Eastern Europe, Caucasus and Central Asia. It suggests expert solutions and services, educational, pilot and advisory projects directed at promotion of market economy structures in the housing sector, improved housing conditions, environment protection. It has been successfully implementing projects and events in the sphere of housing economy for 16 years. This organization is EFL's partner.
Knut Hoeller is director, member of the IWO's Board, has been moderating the expert group on urban infrastructure of the Eastern Europe Business Association of Germany since 2015.